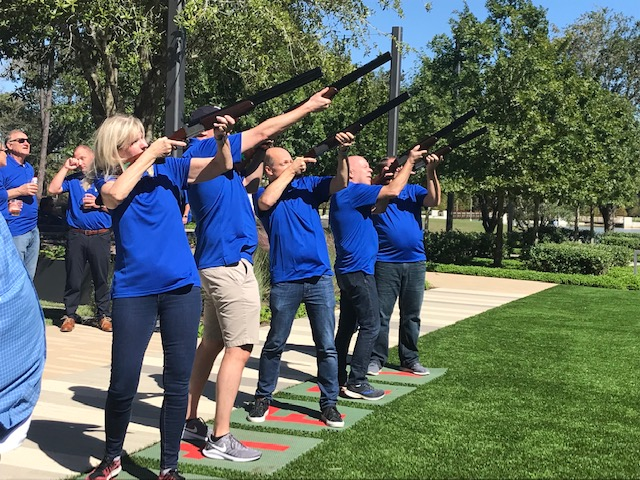 Laser Skeet Rental
Actual Size: Depends On Event.
Setup Area: 120ft x 60ft
Outlets: 0
Age Group: Adults. 5 Player Game.
Attendants: 1




Yes! We Service Your Area!
Nationwide Laser Skeet Rental. To Have A Price Emailed To You Instantly, Please Complete The Quoting Process. Voted Best Laser Skeet In 2022!
5 Player Laser Skeet Rental, is an activity that can be enjoyed by everyone over the age of 18. Whatever their age or ability. It is a hi-tec electronic version of the country sport of Clay Pigeon tag with each player using a modified over and under to fire an infrared beam at realistic clays launched from a real clay trap.
Suitable for first time and seasoned clay target shooters. Using a modified shotgun, participants fire an infared beam at reflective Clays. Real, deactivated guns are used with realistic sound effects that instruct the shooter when they have hit the target. Full instruction and equipment is provided.
Laser Clay is becoming one of the most popular participation activities for weddings, corporate events, private parties, fundraising events, agricultural shows or just about anything that requiries group entertainment. It can be enjoyed by everyone almost anywhere. Each person has a realistic modified over and under that fires an infrared beam. It is completely safe. You aim at modified clays launched from a clay launcher outdoors or at the targets as they light up indoors. Given enough room the outdoor system can also be used indoors. When the over and under trigger is pulled, the digital scoreboard generates a simulated sound effect and if the clay or target is hit, the sound of a breaking clay is produced. 100% authentic, except no kick-back, it's safe and we can operate in confined venues.
We recommend a 120ft by 60ft area.
E C Fun Events is now offering Laser Skeet. It is a fun and safe interactive laser skeet game. Anyone from novice beginners to well-experienced people can enjoy this activity. Laser Clay Pigeon is an activity that can be enjoyed by everyone, the system comprises of five genuine deactivated over and unders, which have been modified to fire a harmless infrared beam at re-usable clays.
All five aim at the same target and "hits" and "misses" are recorded instantly on the digital scoreboard giving that competitive element!
With our vast knowledge of this activity our professional instructors can ensure that all guests can break a few clays in complete safety.
Various Laser Sport games are available, creating different scoring options, making this an ideal activity for Team Building Days, Family Fun Days, Post Conference Entertainment, and Weddings.
If your event goes on after dark, no problem! We are able to offer night time activities as well!
We are able to supply fully linked 5, 10 ,15, and 20 participants laser clay systems for larger groups. We can also combine laser clay with our Radio Controlled Helicopter shooting activity! Guests attempt to fire at a radio controlled helicopter with the over and under as our flying ace pilot performs a series of dare devil stunts in front of the participants!
All Equipment is cleaned after each rental.
Birmingham Laser Skeet Rental
Montgomery Laser Skeet Rental
Mobile Laser Skeet Rental
Anchorage Laser Skeet Rental
Fairbanks Laser Skeet Rental
Juneau Laser Skeet Rental
Phoenix Laser Skeet Rental
Tucson Laser Skeet Rental
Mesa Laser Skeet Rental
Little Rock Laser Skeet Rental
Fort Smith Laser Skeet Rental
Fayetteville Laser Skeet Rental
Los Angeles Laser Skeet Rental
San Diego Laser Skeet Rental
San Jose Laser Skeet Rental
Denver Laser Skeet Rental
Colorado Springs Laser Skeet Rental
Aurora Laser Skeet Rental
Bridgeport Laser Skeet Rental
New Haven Laser Skeet Rental
Hartford Laser Skeet Rental
Wilmington Laser Skeet Rental
Dover Laser Skeet Rental
Newark Laser Skeet Rental
Jacksonville Laser Skeet Rental
Miami Laser Skeet Rental
Tampa Laser Skeet Rental
Atlanta Laser Skeet Rental
Augusta Laser Skeet Rental
Columbus Laser Skeet Rental
Honolulu Laser Skeet Rental
Hilo Laser Skeet Rental
Kailua Laser Skeet Rental
Boise Laser Skeet Rental
Nampa Laser Skeet Rental
Idaho Falls Laser Skeet Rental
Chicago Laser Skeet Rental
Aurora Laser Skeet Rental
Rockford Laser Skeet Rental
Indianapolis Laser Skeet Rental
Fort Wayne Laser Skeet Rental
Evansville Laser Skeet Rental
Des Moines Laser Skeet Rental
Cedar Rapids Laser Skeet Rental
Davenport Laser Skeet Rental
Wichita Laser Skeet Rental
Overland Park Laser Skeet Rental
Kansas City Laser Skeet Rental
Louisville Laser Skeet Rental
Lexington Laser Skeet Rental
Bowling Green Laser Skeet Rental
New Orleans Laser Skeet Rental
Shreveport Laser Skeet Rental
Baton Rouge Laser Skeet Rental
Portland Laser Skeet Rental
Lewiston Laser Skeet Rental
Bangor Laser Skeet Rental
Baltimore Laser Skeet Rental
Frederick Laser Skeet Rental
Gaithersburg Laser Skeet Rental
Boston Laser Skeet Rental
Worcester Laser Skeet Rental
Springfield Laser Skeet Rental
Detroit Laser Skeet Rental
Grand Rapids Laser Skeet Rental
Warren Laser Skeet Rental
Minneapolis Laser Skeet Rental
Saint Paul Laser Skeet Rental
Rochester Laser Skeet Rental
Jackson Laser Skeet Rental
Gulfport Laser Skeet Rental
Biloxi Laser Skeet Rental
Kansas City Laser Skeet Rental
Saint Louis Laser Skeet Rental
Springfield Laser Skeet Rental
Billings Laser Skeet Rental
Missoula Laser Skeet Rental
Great Falls Laser Skeet Rental
Omaha Laser Skeet Rental
Lincoln Laser Skeet Rental
Bellevue Laser Skeet Rental
Las Vegas Laser Skeet Rental
Reno Laser Skeet Rental
Henderson Laser Skeet Rental
Manchester Laser Skeet Rental
Nashua Laser Skeet Rental
Concord Laser Skeet Rental
Newark Laser Skeet Rental
Jersey City Laser Skeet Rental
Paterson Laser Skeet Rental
Albuquerque Laser Skeet Rental
Las Cruces Laser Skeet Rental
Rio Rancho Laser Skeet Rental
New York City Laser Skeet Rental
Buffalo Laser Skeet Rental
Rochester Laser Skeet Rental
Charlotte Laser Skeet Rental
Raleigh Laser Skeet Rental
Greensboro Laser Skeet Rental
Fargo Laser Skeet Rental
Bismarck Laser Skeet Rental
Grand Forks Laser Skeet Rental
Columbus Laser Skeet Rental
Cleveland Laser Skeet Rental
Cincinnati Laser Skeet Rental
Oklahoma City Laser Skeet Rental
Tulsa Laser Skeet Rental
Norman Laser Skeet Rental
Portland Laser Skeet Rental
Salem Laser Skeet Rental
Eugene Laser Skeet Rental
Philadelphia Laser Skeet Rental
Pittsburgh Laser Skeet Rental
Allentown Laser Skeet Rental
Providence Laser Skeet Rental
Warwick Laser Skeet Rental
Cranston Laser Skeet Rental
Charleston Laser Skeet Rental
Columbia Laser Skeet Rental
North Charleston Laser Skeet Rental
Sioux Falls Laser Skeet Rental
Rapid City Laser Skeet Rental
Aberdeen Laser Skeet Rental
Memphis Laser Skeet Rental
Nashville Laser Skeet Rental
Knoxville Laser Skeet Rental
Houston Laser Skeet Rental
San Antonio Laser Skeet Rental
Dallas Laser Skeet Rental
Salt Lake City Laser Skeet Rental
West Valley City Laser Skeet Rental
Provo Laser Skeet Rental
Burlington Laser Skeet Rental
South Burlington Laser Skeet Rental
Rutland Laser Skeet Rental
Virginia Beach Laser Skeet Rental
Norfolk Laser Skeet Rental
Chesapeake Laser Skeet Rental
Seattle Laser Skeet Rental
Spokane Laser Skeet Rental
Tacoma Laser Skeet Rental
Charleston Laser Skeet Rental
Huntington Laser Skeet Rental
Parkersburg Laser Skeet Rental
Milwaukee Laser Skeet Rental
Madison Laser Skeet Rental
Green Bay Laser Skeet Rental
Cheyenne Laser Skeet Rental
Casper Laser Skeet Rental
Laramie Laser Skeet Rental