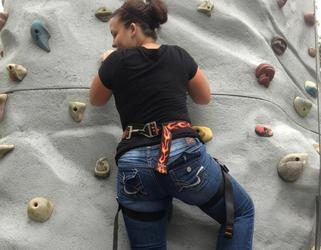 Rock Wall 18FT
Actual Size: 20ft x 60ft x 26ft
Setup Area: 20ft x 60ft
Outlets: 0
Age Group: All Ages 50-210lbs
Attendants: 1




Yes! We Service Your Area!
Portable 18ft Rock Wall Rentals. To Have A Price Emailed To You Instantly, Please Complete The Quoting Process. Voted Best Rock Wall In 2020!
E C Fun Events offers a portable rock climbing wall rental that services all 50 states. E C Fun Events will definitely make your next event a memorable one. From corporate events to private birthday parties, our mobile rock climbing walls are always a hit! Towering 18 feet above the ground, our portable rock climbing walls make a great interactive centerpiece for any occasion. With our instructor's guidance, the only prerequisite for getting to the top is the desire to have fun. Climbers of all ages, from 3-95, have enjoyed our mobile rock climbing walls for years. We offer a 2 route rock climbing wall to ensure high volume and a great challenge for all.
E C Fun Events uses only the best industry leading equipment. All equipment, staff, set-up & insurance are provided for your event. Call us today for a quote.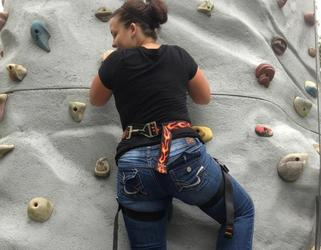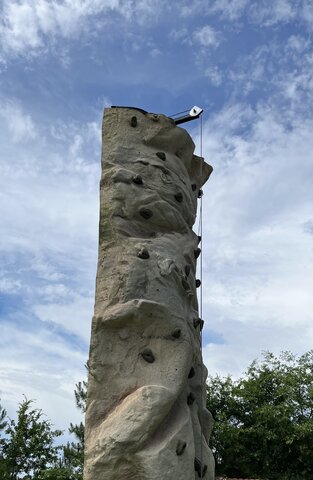 We need a 30ft by 20ft area that is level. There also needs to be at least a 25 ft ceiling if it is set up indoors and no trees or buildings nearby if outdoors. Power is not required unless at night for lights. Also, for faster turn-over of climbers on the rock wall, we recommend 2 adult volunteers to help harness and un-harness climbers. Volunteers are not required, but recommended. An E C Fun Events operator will assist climbers whether or not volunteers are available. Having your event at night? Ask your event specialist about adding on an LED flood light so the fun never ends.
All Equipment is cleaned after each rental.
Birmingham Rock wall Rental
Montgomery Rock wall Rental
Mobile Rock wall Rental
Anchorage Rock wall Rental
Fairbanks Rock wall Rental
Juneau Rock wall Rental
Phoenix Rock wall Rental
Tucson Rock wall Rental
Mesa Rock wall Rental
Little Rock Rock wall Rental
Fort Smith Rock wall Rental
Fayetteville Rock wall Rental
Los Angeles Rock wall Rental
San Diego Rock wall Rental
San Jose Rock wall Rental
Denver Rock wall Rental
Colorado Springs Rock wall Rental
Aurora Rock wall Rental
Bridgeport Rock wall Rental
New Haven Rock wall Rental
Hartford Rock wall Rental
Wilmington Rock wall Rental
Dover Rock wall Rental
Newark Rock wall Rental
Jacksonville Rock wall Rental
Miami Rock wall Rental
Tampa Rock wall Rental
Atlanta Rock wall Rental
Augusta Rock wall Rental
Columbus Rock wall Rental
Honolulu Rock wall Rental
Hilo Rock wall Rental
Kailua Rock wall Rental
Boise Rock wall Rental
Nampa Rock wall Rental
Idaho Falls Rock wall Rental
Chicago Rock wall Rental
Aurora Rock wall Rental
Rockford Rock wall Rental
Indianapolis Rock wall Rental
Fort Wayne Rock wall Rental
Evansville Rock wall Rental
Des Moines Rock wall Rental
Cedar Rapids Rock wall Rental
Davenport Rock wall Rental
Wichita Rock wall Rental
Overland Park Rock wall Rental
Kansas City Rock wall Rental
Louisville Rock wall Rental
Lexington Rock wall Rental
Bowling Green Rock wall Rental
New Orleans Rock wall Rental
Shreveport Rock wall Rental
Baton Rouge Rock wall Rental
Portland Rock wall Rental
Lewiston Rock wall Rental
Bangor Rock wall Rental
Baltimore Rock wall Rental
Frederick Rock wall Rental
Gaithersburg Rock wall Rental
Boston Rock wall Rental
Worcester Rock wall Rental
Springfield Rock wall Rental
Detroit Rock wall Rental
Grand Rapids Rock wall Rental
Warren Rock wall Rental
Minneapolis Rock wall Rental
Saint Paul Rock wall Rental
Rochester Rock wall Rental
Jackson Rock wall Rental
Gulfport Rock wall Rental
Biloxi Rock wall Rental
Kansas City Rock wall Rental
Saint Louis Rock wall Rental
Springfield Rock wall Rental
Billings Rock wall Rental
Missoula Rock wall Rental
Great Falls Rock wall Rental
Omaha Rock wall Rental
Lincoln Rock wall Rental
Bellevue Rock wall Rental
Las Vegas Rock wall Rental
Reno Rock wall Rental
Henderson Rock wall Rental
Manchester Rock wall Rental
Nashua Rock wall Rental
Concord Rock wall Rental
Newark Rock wall Rental
Jersey City Rock wall Rental
Paterson Rock wall Rental
Albuquerque Rock wall Rental
Las Cruces Rock wall Rental
Rio Rancho Rock wall Rental
New York City Rock wall Rental
Buffalo Rock wall Rental
Rochester Rock wall Rental
Charlotte Rock wall Rental
Raleigh Rock wall Rental
Greensboro Rock wall Rental
Fargo Rock wall Rental
Bismarck Rock wall Rental
Grand Forks Rock wall Rental
Columbus Rock wall Rental
Cleveland Rock wall Rental
Cincinnati Rock wall Rental
Oklahoma City Rock wall Rental
Tulsa Rock wall Rental
Norman Rock wall Rental
Portland Rock wall Rental
Salem Rock wall Rental
Eugene Rock wall Rental
Philadelphia Rock wall Rental
Pittsburgh Rock wall Rental
Allentown Rock wall Rental
Providence Rock wall Rental
Warwick Rock wall Rental
Cranston Rock wall Rental
Charleston Rock wall Rental
Columbia Rock wall Rental
North Charleston Rock wall Rental
Sioux Falls Rock wall Rental
Rapid City Rock wall Rental
Aberdeen Rock wall Rental
Memphis Rock wall Rental
Nashville Rock wall Rental
Knoxville Rock wall Rental
Houston Rock wall Rental
San Antonio Rock wall Rental
Dallas Rock wall Rental
Salt Lake City Rock wall Rental
West Valley City Rock wall Rental
Provo Rock wall Rental
Burlington Rock wall Rental
South Burlington Rock wall Rental
Rutland Rock wall Rental
Virginia Beach Rock wall Rental
Norfolk Rock wall Rental
Chesapeake Rock wall Rental
Seattle Rock wall Rental
Spokane Rock wall Rental
Tacoma Rock wall Rental
Charleston Rock wall Rental
Huntington Rock wall Rental
Parkersburg Rock wall Rental
Milwaukee Rock wall Rental
Madison Rock wall Rental
Green Bay Rock wall Rental
Cheyenne Rock wall Rental
Casper Rock wall Rental
Laramie Rock wall Rental