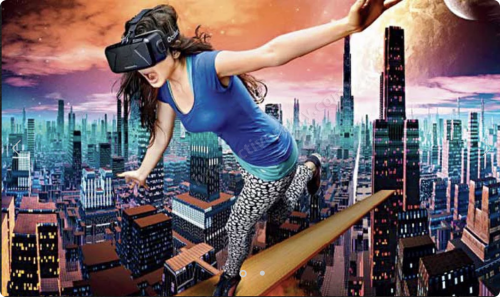 Virtual Reality Walk The Plank Rental
Actual Size: 10ft x 10ft
Setup Area: 10ft x 10ft
Outlets: 0
Age Group: All Ages
Attendants: 1




Voted Best VR Walk The Plank Rental In 2019. To Have A Price Emailed To You Instantly, Please Complete The Quoting Process.
You're on a plank, 80 stories high. Knees shaky, palms sweaty. You have a choice. Do you walk or do you freeze? Richie's Plank is the only Virtual Reality experience that lets you clone any real-world plank into the virtual world for 2X the immersion.
Description
Walk the Plank VR is a virtual reality game that lets you experience the fear of walking on a narrow wooden plank hundreds of feet above the ground. The task is to walk the plank and find rewards at the end of the plank. The virtual reality technology along with the fans blowing air at a certain velocity creates an actual environment of one walking the plank on that height. The technology behind this game is cinematic. You immerse yourself in the game with the VR headset, the game delivers the thrill of gathering all the courage to steadily move forward on the plank, and returning back. Remember, falling off the plank means game over!
Fire Deck Bonus Level
Want to know what it feels like to be a super-hero? Here's your chance. Fly around the virtual city and extinguish fires.
Richie's Plank Experience was made to demonstrate virtual reality to friends and family. It'™s a short experience which will cause big reactions - exhilaration, fear and laughter - it'™s always surprising to see how each person reacts.